Sunraysia politicians to veto domain name registrations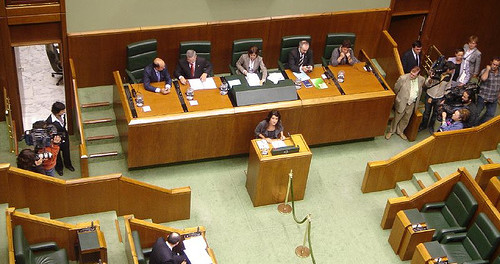 Politicians in the Sunraysia district have had websites of their names purchased without their knowledge, preventing them from registering eponymous domain names.
Former Mildura Deputy Mayor, Cr Ali Cupper, who noticed about six weeks ago that her name had been registered to a .com.au address, recently also discovered that Jo Clutterbuck, chairperson at the Reclaim Mildura Base Hospital lobby group, also suffered the same fate.
She called the practice an "underhanded tactic".
"I can only speculate that someone is trying to minimise our exposure," she said.
"The dirty tactics have already begun and I don't even know if I'm going to run."
However, Joy Thomas, owner of Trondez, the registrar whom the names are registered with, said the domain names were purchased on behalf of an "overseas investment company" after being requested over a year ago, and were legitimate purchases.
She reiterated that she was within her rights to register the names within guidelines, saying nobody had pre-existing rights to a domain name.
"As a business owner I am asked by my clients to produce and purchase many things," she said.
"In this instance I had been requested some time ago to purchase several domain names of interest to them."
Clutterbuck said she had contacted the registrar attempting to acquire the joclutterbuck.com.au address, but was refused, accusing Thomas of trying to extract exorbitant fees for the domain name.
"She advised me that she had purchased it for a third party and cited a legal case," Clutterbuck said.
"She told me basically to whistle Dixie and to offer her money, which I refused to do."
Thomas then accused the politicians running a public agenda against her, with messages and social media posts attempting to "destroy her businesses" and "run her out of town".
"I have been in this direct line of work as a internet specialist and web developer for approximately 25 years… I have purchased all domains with the knowledge that I have done so within all governing bodies' guidelines and 100 per cent legally," she said.
"What they're doing is malicious,"
She said her client had agreed to sell all domain names in a package if a reasonable offer was made, a standard practice for domain on-sellers, on the proviso that all threats made against her ceased and posts were deleted from social media.
However, Clutterbuck and Cupper lodged formal complaints with auDA over the incident.
Attempts by a third party were made to register websites in the names of Mildura Mayor Glenn Milne, and former federal Palmer United Party (PUP) candidate for Mallee Mark Cory, however the spelling of both names was incorrect.
Cory's surname was registered with an 'e', while Milne's first name was spelt with just one 'n'.
Opposition representatives denied purchasing the domain names.
This article is sponsored by Discount Domain Name Services, Cheaper Domains , and Information Brokers .