News.com.au remains top news site as digital sales plateau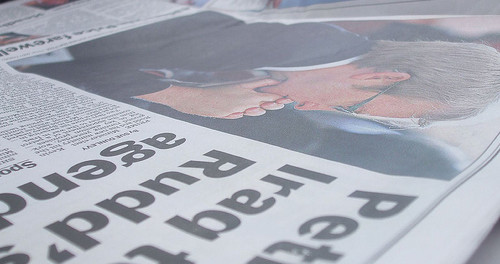 Growth of Australian digital newspapers slowed down in the December quarter, with all of The Australian, Herald Sun and The Age/ SMH posting slowdowns in subscriptions.
The Australian experienced the most constant reduction in growth, with digital sales growing 2.3% in the december quarter. Since its launch in the first quarter of 2013, The Australian had grown 16%, 5.3% and 4.8% in previous respective quarters.
Meanwhile, The Herald Sun also saw a slowing of its digital sales growth since its paywall launched in March 2013. Its first three months behind a paywall saw a 27.5% growth in digital sales, though from a relatively lower base of 33,714.By the last quarter of 2013, its sales grew by just 4.8%.
The Age, the last of the papers to implement a paywall system, saw growth drop from around 50% to 20% after one quarter. The total figures from Mumbrella include:
The Australian digital sales
December 2012 – 39,539
March 2013 – 45,869 (+16%)
June 2013 – 51,213 (+5.3%)
September 2013 – 55,991 (+4.8%)
December 2013 – 57,282 (+2.3%)
Herald Sun digital sales
March 2013 – 26,436 (First publication of data)
June 2013 – 33,714 (after paywall launch) (+27.5%)
September 2013 – 37,564 (+11.4%)
December 2013 – 39,380 (+4.8%)
The Age digital sales
Dec 2012 – 37,162
March 2013 – 41,381 (+11.4%)
June 2013 – 47,951 (+13.7%)
September 2013 – 97,788 (after paywall launch) (+51%)
December 2013 – 117,892 (+20.6%)
Sydney Morning Herald digital sales
December 2012 – 37,162
March 2013 – 44,697 (+20.3%)
June 2013 – 43,191 (-3.5%)
September 2013 – 98,177 (after paywall launch) (+127.3%)
December 2013 – 120,043 (+22.3%)
With the summer quarter a traditionally slower time for newspaper sales according to the newspaper industry, the figures were arguably skewed by the seasonal variations.
However, based on subscription numbers, revenue figures also appeared to be weak.
As the first Australian news site to launch a paywall in October 2011, and with 57,282 digital subscribers paying an average of $4 per week, The Australian's digital revenue is roughly $230,000 per week, "a long way from making up for the shortfall in print revenues".
Digital subscriptions to The Herald Sun are also priced at $4 per week, equating to a revenue of about $150,000 at best based on its 39,000 subscribers.
Fairfax Media's Sydney Morning Herald and The Age digital subscription calculations were more complex. With their most expensive subscriptions are around $6 per week, but school and tertiary education editions offered at a lower price, Mumbrella calculated the Age's weekly revenue at around $1.4m per week at best, with the actual figure likely to be much lower.
Meanwhile, the paywall-free news.com.au regained top position as Australia's most clicked news site, with an audience of 2.767 million. It regained top spot after coming second and third in the In the November and December surveys respectively. Closely following were Fairfax's smh.com.au with an audience of 2.751 million, and NineMSN's 2.454 million viewers, while its new joint venture partner the Mail Online rising to eighth position in January.
The positive figures came after a tumultuous couple of months for news.com.au, losing its editor Luke McIlveen and a number of key staff to the Mail Online, but gaining former Age online editor Daniel Sankey as its new editor. The biggest advantage for news.com.au is its status as a free website.
This article is sponsored by Discount Domain Name Services, Cheaper Domains , and Information Brokers .