Legal battle between radio stations sealed with a kiss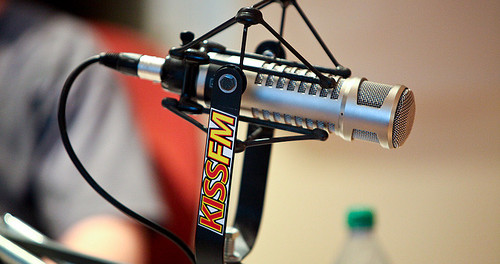 A Melbourne community radio station is preparing a legal battle with a mainstream Sydney station that is rebranding to use an identical name.
Melbourne dance music station, Kiss FM, which has used the 'Kiss' name since 2005, is stating its intention to challenge Australian Radio Network's (ARN) re-branding of their Sydney 'Mix' stations to 'Kiis FM' (pronounced 'kiss') in January 2014.
However, ARN representative, Bec Brown, played down the conflict, insisting the station was solely Syndey based and a different genre and entertainment format to Kiss.
She said ARN were not looking to impede on a community station, stressing discussions between the two parties were transparent throughout the process.
ARN also owns Mix 101.1 in Melbourne and emphasised it had no intention to also change its, claiming both names were part of their "Kiis and Mix network" of stations.
However, it was later discovered that ARN had registered a number of domain names in Australia under the Kiis brand, two of which included Kiis1011.com.au (known as Mix101.1) and Kiis1043.com.au (known as Gold 104.3) in Melbourne.
Kiss FM station manager Tim Byrne described the events as "immoral" and "reprehensible" and accused ARN of trying to undermine the 'Kiss' name.
In response, Kiss FM have planned a three-pronged attack, sending a cease and desist letter (dated December 9) to ARN, starting an online petition to support the cause, and seeking funds to commence a court battle against ARN.
They also lodged a claim in November 12 to trademark the 'Kiss' name, just weeks before Kiis106.5 did the same on November 25.
Normally it takes a trademark claim months to be confirmed, only if there is no opposition to the application.
The new Kiis station, named after Los Angeles' Kiis102.7 FM, will be launched on January 20, headlined by the Kyle and Jackie O Show.
Previously, they led the Sydney morning ratings at 2Day FM for 51 consecutive weeks, before announcing in October that failed contract negotiations had left them seeking new projects.
Kiss FM's Tim Byrne described the fight against ARN as a "David and Goliath" battle, "a bit like The Castle".
An excerpt from Kiss FM's online statement includes:
"Kiss FM Dance Music Australia is an independent radio station, something that is unique in Australia's concentrated corporate media landscape.
Now after trading as Kiss FM for more than eight years, the Australian Radio Network (ARN) with parent U.S. company ClearChannel (the largest radio station conglomerate in America) is planning on launching its own Kiss radio station in Australia (Kiis). ARN have decided our Kiss name suits their rebranding strategy of Sydney' Mix FM. Should ARN go ahead with its plans, this will significantly dilute the goodwill and reputation of our much-loved Kiss brand in Australia which we have carefully built up over the past 8 years."
This article is sponsored by Discount Domain Name Services, Cheaper Domains , and Information Brokers .