American immigration business fails to migrate Australian website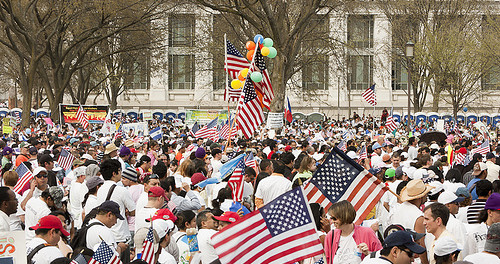 Immihelp, an American business providing migration services to foreigners visiting America, has failed to have the website immhelp.com.au, owned by Sydney-based Australian migration agent Babak Shahafar, transferred to its name in a complaint heard by WIPO.
Operating since 1999 and holding a business trademark in America since 2006 and in Australia since 2012, along with several Top-Level Domains names incorporating the "immihelp" name, Immihelp "provid[ed] consumer information in the field of immigration, insurance and visas".
It helps Australians applying for green cards or dual Australian/American citizenship, and provides other services such as recognition of Australian qualifications in America,
Meanwhile, the disputed domain name, immihelp.com.au, was registered in 2009 by Shahafar, a registered Migration Agent in Australia, promoting migration to Australia, assisting with immigration visas and the settlement of immigrants.
The case said "all his clients hail from overseas and that the services he provides are specialised and focused on challenges faced by overseas individuals attempting to enter or otherwise reside in Australia".
Currently, the website loads an "under construction" page. Shahfar acknowledged the site's inactivity, stating that the Domain Name was actively used for email communication, though provided some evidence to suggest that he had previously planned to launch a functional website.
Immihelp's claims included:
Shahafar's site was identical or confusingly similar to the IMMIHELP trademark and that he had no rights or legitimate interests in relation to the Domain Name, which was registered and used in bad faith.
"IMMIHELP [was] an invented or coined word and therefore not one that other traders would legitimately choose unless they were trying to create a false association with the Complainant."
Shahafar must have known of Immihelp prior rights and reputation when he registered immehelp.com.au, as the rights pre-date the domain name by 10 years.
Immihelp had been widely accessed by Australian users since 2006 and provided a wide range of services to Australian users. "There is no doubt [Shahafar] was aware of the… IMMIHELP trademark and the services it provides thereunder."
Shahafar had no relationship nor permission from Immihelp to use the name, and is not commonly known by the immihelp.com.au domain name.
Given Immihelp's "substantial reputation and rights throughout the world, including Australia, in 2010, any adoption of 'Immihelp' by [Shahafar] is not a bona fide use."
Shahafar registered the domain name in order to prevent Immihelp registering its trademark in the ".com.au" space and was trying to make financial gains by falsely leading users to his business.
Shahafar's response included:
To provide immigration assistance in Australia, a business had to be registered with the Australian Government's Migration Agents Registration Authority ("MARA"), and was a serious offence to do otherwise. Immehelp had never been authorised to provide immigration services in Australia.
The inspiration for the domain name was the official Australian Government's Immigration website, "www.immi.gov.au". The official Government site is "immi," so Shahafar registered the name "immihelp".
He had planned to launch a business around that name, and had ordered business cards with that name an accompanying logo, but ceased plans when he received legal advice that the domain name could unlawfully suggest he was affiliated with the government
However, he "had already distributed his email address and is still generating income through it."
In denying bad faith, Shahafar noted that Immihelp applied for an Australian Trademark some 28 months after he registered the Domain Name.
While he accepts that Immihelp had a trademark in the United States prior to this date, such a trademark has no jurisdiction outside the states, neither does it "permit [Immihelp] to operate an Immigration firm in Australia based on owning a trademark."
Shahafar said he had been in that line of work for over a decade, dealing with people overseas wishing to obtain a lawful Australian visa, and that Immihelp was not in the same line of work.
Shahafar said he registered the Domain Name in good faith and had never claimed any association with Immihelp's American operations, nor did he intend to do so.
In rebuttal to Shahafar's claims that Immihelp were trading unlawfully in Australia without MARA authorisation, Immihelp said "the jurisdiction of MARA pertains only to persons providing assistance regarding Australian immigration issues and Australian visas," while they had provided immigration services to Australians and people worldwide traveling or immigrating to the United States.
Immihelp "only provides information relating to United States immigration and does not provide assistance with respect to Australian immigration or Australian visas. Therefore there is no requirement for [Immihelp] to be registered with or licensed by MARA."
The WIPO Panel concluded that:
The Domain Name was identical to IMMIHELP's trademark.
Shahafar had previously made approaches to market the immihelp.com.au website in Australia, enquiring in March, 2010, (four months after registering the domain name) to develop a logo containing "immihelp" for a website for an immigration consultancy.
"Mere awareness of a complainant's identical mark is sufficient to constitute notice of a domain name dispute under the Policy," as Shahafar was not made aware of the dispute until four years after registering it, when Immihelp representative wrote to ask for a transfer of the domain name.
Immihelp helps people in regards to immigration to the United States. Shahafar's business is helping people with immigration to Australia. They cater to different markets and are unlikely to clash with each other.
Although the "com.au" extension is normally not relevant to issues of confusing similarity or legitimacy, in this particular case it does, as .au would suggest to Internet users the service is provided to help "with immigration to Australia, a service that [Shahafar] is qualified to provide and which [Immihelp] apparently does not and is not entitled to provide.
Just because the trademark IMMIHELP is an invented or coined word, it is not one that others would register to solely interfere with the American business. This is evidenced by the fact that the Australian Government itself uses the 'Immi' term to abbreviate its immigration department, and it was plausible that Shafar would could combine the government phrase with 'help' to create a business name.
Shahafar is a registered Migration Agent and it was accepted that his purpose to register the immihelp.com.au domain name was to promote his migration consultancy by combining the government's 'Immi' term and 'help' , and was counting as a "bona fide offering of services".
In conclusion, the panel decided that Immihelp could not establish a strong case against Sahafar, and dismissed the complaint, allowing Shafar to continue operating the immihelp.com.au website.
This article is sponsored by Discount Domain Name Services, Cheaper Domains , and Information Brokers .